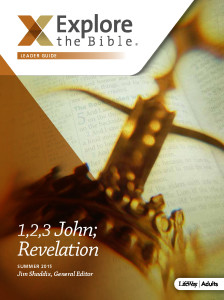 A team of us work together to determine how Explore the Bible will approach a Bible book. We create outlines for the writers we recruited that reflect the agreed upon direction. When we were considering how to approach Revelation, we had some lively debate. We were aware that the return of Christ is interpreted in varying ways, and these variations are typically expressed in one of four millennial views (listed alphabetically):
1. Amillennialism—The thousand-year period referred to in Revelation 20:4-6 is a figurative description of the church age, the long period of time – but not literally 1000 years – between Christ's first appearance on earth and His return. There will be no millennium (thus a-millennial) after Christ's return but rather the judgment and establishment of the new heaven and new earth.
2. Dispensational Premillennialism—Christ will remove His church prior to a period of great tribulation, after which He will return to earth and reign for a thousand years.
3. Historical Premillennialism—Christ will return to earth in a cataclysmic event and reign for a thousand years.
4. Postmillennialism—As the gospel advances and triumphs throughout the world, humanity will experience a golden age of a thousand years (either literal and/or symbolic). At the conclusion of this period, Christ will physically return to earth and the new heaven and new earth will be established.
Evangelicals and respected scholars have espoused each view, and we had several of these views represented on the team. We do not believe that a person's millennial view should be used as a test of faith, fellowship, or biblical authority. Therefore, instead of focusing on the differences, the choice was made to focus on points of agreement. We also wanted to let Revelation speak for itself.
Here are examples from two of our resources of how our writers helped us do this:
The interlude is divided into two parts. First, the sealing of the 144,000 is depicted in 7:1-8. Bible scholars differ over whether this number represents Jewish believers or the whole church. (Explore the Bible Commentary, p. 111)
Then there's the matter of when these events are thought to occur. According to some, John was describing events of his own times— the "preterist"[PREH tuhr ist] view. In this view, the locust plague of Revelation 9 may have referred to an invasion of Parthians from the east, the scourge of the Romans. Parthian warriors were said to have shot poison-tipped arrows and to have worn long flowing locks (see 9:8,10). Another perspective—the "futurist" view—holds that John was describing future events to be fulfilled only during the end time surrounding the glorious return of Jesus Christ. In this view, the locusts are thought of as satanically motivated (demonic) forces that have yet to arise against forces of good and God. Yet another view—the "historicist" view—interprets these chapters as a forecast of centuries of Christian history, from John's time until the final consummation, during which God's people will continually struggle with hostile opposition, although not without the divine promise of ultimate victory. Finally, some Bible students hold the "idealist" view. This view seeks to avoid looking for single, specific historical events as fulfillment of this part of Revelation. Rather, the imagery is to be understood as symbolic portrayals of the ongoing conflict of God (and His kingdom of righteousness) versus Satan (and his powers of evil). Again, Bible students agree to disagree!
For the purposes of this session, we do not need to choose one of these views over another. Instead, we will focus on a theme on which all of the views agree. That theme is an emphasis on God's righteous judgment, which ultimately is meant to be an instrument of redemption. God's punishment of sin is terrible and certain, but Jesus rescues those who belong to Him from His judgment. (Explore the Bible Leader Guide, p. 114-115)
By taking this approach (focusing on points of agreement), each church and group leader is free to present his or her perspective on points of disagreement among evangelicals. There are some things we can all agree upon: Christ is coming back, only through faith in Christ can one gain eternal life, Satan is already judged, the reality of a literal heaven and hell. It is these things upon which we should build our lives and that should motivate us to be ever more diligent in declaring God's offer of salvation through His Son to our world.
G. Dwayne McCrary leads the team that creates the Adult Explore the Bible resources. He also teaches two Bible study groups in his church using Explore the Bible resources.