We are excited about the newest release from Explore the Bible! Our Winter study is a in-depth look at the incredible books– Esther, Ezra, and Nehemiah. This 13 session study reminds us how even one believer willing to take a stand can make an incredible difference for God's kingdom.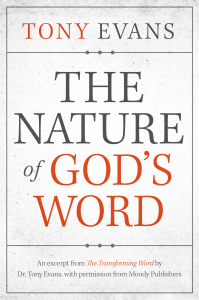 In conjunction with the launch of this study, Explore the Bible has teamed up with Moody Publishers  to offer a free eBook by our General Editor, Dr. Tony Evans entitled The Nature of God's Word.  In his direct, interesting, and down to earth style, Tony Evans discusses how the bible is unique, truthful, authoritative, powerful, and sufficient.
Our goal is to provide the best, most trusted book-by-book Bible study resources because we believe when people dwell in the Word of God, lives, families, churches, and nations are changed forever for the glory of God.
Click HERE to get your copy now!